23 septembre 2018
Version 2.0 - 20 years Promo

---
21 septembre 2018 - 19h20 - direct
Télévision Quotidien - TMC
Paris, France
Interview Shirley + Live "I Think I'm Paranoid"
---
Groupe
Shirley Manson (voix)
Steeve Marker (guitare et clavier)
Duke Erikson (guitare et clavier)
Butch Vig (batterie)
Eric Avery (guitare basse)
---
Captures
- interview -
> l'interview en replay sur tf1.fr/tmc
L'animateur Yann Barthes reçoit sur son plateau Shirley Manson pour une courte interview:
Yann Barthes "You are a rock legend, you know that ?!"
Shirley Manson éclate de rire: "The description is ridiculous but thank you!"
Yann Barthes: "Dites-nous trois mots pour parler de cet album de légende qui a 20 ans aujourd'hui"
Shirley Manson: "Sci - Fi -Pop"
Yann Barthes: "Your favorite word in French ?"
Shirley Manson: "Putain"
Yann Barthes: "Your favorite word in English ?"
Shirley Manson: "Paw... you known, on animals..." (paw = "patte" en français)
Yann Barthes: "Why ??"
Shirley Manson: "It's a strange feeling just when i hear the word"
Yann Barthes: "Rock is not dead ?"
Shirley Manson: "Absolutely not !"
Yann Barthes lance la "playlist":
- La plus belle chanson de toute l'histoire ? pour Shirley: Jackie Lee "White Horses"
- La chanson pour danser ? pour Shirley: Gloria Gaynor "I Will Survive"
- La chanson pour une nuit d'amour ? pour Shirley: Nine Inch Nails: "Closer"
- La chanson géniale mais aussi honteuse ? pour Shirley: Justin Bieber feat Chance The Rapper: "Confident"
---
Captures
- live -
> le live en replay sur tf1.fr/tmc
Video

---
© All images are copyright and protected by their respective owners, assignees or others.
copyright text by GinieLand.
05 juillet 2018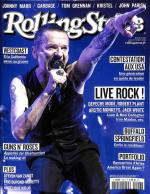 Rolling Stone
n°106
pays magazine: France
paru le 29 juin 2018
article de 2 pages sur Garbage
---
- INTERVIEW –
Shirley Manson : Garbage et elle
Sophie Rosemont
( source article rollingstone.fr )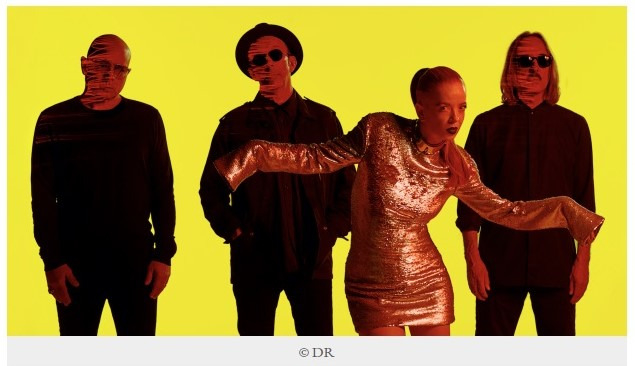 Le deuxième album de Garbage, 2.0, fête ses 20 ans et s'offre une belle réédition. L'occasion de rencontrer la chanteuse du groupe, Shirley Manson, à Londres pour un petit flash back…
Une maison londonienne typique, avec bow window, petit jardin et adorable toutou en option… Plutôt que de s'entretenir avec les journalistes dans un hôtel, Shirley Manson a choisi le domicile d'une des amies de son label anglais. Tant mieux : toujours rousse, l'œil clair, la moue naturellement gouailleuse, elle est détendue et éclate de rire facilement. C'est parti pour une longue conversation sans non dits où on revient sur la genèse et le succès du second album de Garbage, 2.0., son féminisme et la manière dont elle a réussi à s'affirmer, les années passant et le recul aidant. Définitivement, miss Manson est l'une des icônes féminines les plus rock'n'roll de notre époque.
Vous souvenez-vous de l'enregistrement de 2.0 ?
On voulait faire une musique beaucoup plus futuriste que sur le premier album et on avait même un terme pour ça : sci-fi pop. Nos modèles, c'était Massive Attack, Portishead, les Chemical Brothers. On est retourné enregistrer aux Etats-Unis, dans le Wisconsin. La mère de Steve était en train de mourir, Duke vivait les meilleurs moments de son existence et Butch était plutôt en forme. Moi, j'étais résolue à rentrer dans le lard de tout le monde si besoin, m'affirmer davantage que sur le premier album où j'étais arrivée trop tard pour écrire la totalité des textes. Je suis très directe, je n'ai pas le temps d'être timide ou peureuse, c'est ce que j'ai voulu prouver avec 2.0.
Vous avez évolué dans un groupe d'hommes, mais avez collaboré avec des artistes féminines, de Blondie à Sky Ferreira… Besoin de solidarité ?
En tant que chanteuse d'un groupe de rock, j'ai rencontré beaucoup de malveillance ou de jalousie de la part d'autres musiciennes. Alors que je m'étais toujours senti à l'aise avec elles, car j'ai deux sœurs, je suis féministe… En me rapprochant de femmes artistes, j'ai clairement montré que je refusais cette compétition si facilement imposée par la société. Je veux voir les autres femmes comme des alliées. Notre force respective doit nous fédérer. Car même si on a plus de liberté que nos mères ou grand-mères, le chemin est difficile pour s'imposer…
Vous avez travaillé dur pour ça ?
Oui, et une fois que j'avais du succès, je m'en suis voulue… comme si je ne le méritais pas ! Ce n'est que maintenant que j'en profite et l'apprécie vraiment !
Pensez-vous toujours que 2.0 est la quintessence de Garbage ?
Oui. Si je devais choisir un seul album à jouer sur scène, ce serait celui-ci. Le premier album était un succès mais il était totalement bordélique. 2.0, lui, était parfaitement exécuté. Ce qui nous a aidé à ne pas trop vieillir, c'est que nos disques sont de drôles de mélanges. Sans doute parce que nous sommes tellement différents au sein du groupe. S'il y a quelque chose dont je suis fière, c'est ce son authentique et original.
Comment aviez-vous géré l'immense succès qui vous était tombé dessus à l'époque ?
C'était génial, et il nous a permis de faire 2.0 dans d'excellentes conditions, mais j'avais tendance à être agressive. Je suis définitivement très fragile, j'ai donc développé une faculté à tenir les gens éloignés afin d'éviter leurs coups et qu'ils ne se foutent pas de ma gueule. Avec le succès, j'ai d'autant plus gardé les gens à distance. Pourtant, je suis un agneau… Mais dans la presse, on te présente que d'une seule et unique manière, alors qu'en tant qu'humains, nous sommes une multitude de visages en une seule personne, selon notre expérience, notre passif. Bon, cela étant dit, je me contredis tout le temps…
Est-ce pour cette raison que vous êtes partie vivre à Los Angeles ?
Sans doute. On y est anonyme, on peut y renaître, même si on a l'impression d'être cassé en mille morceaux. En Ecosse, en Angleterre, j'étais jugée de toutes parts. J'avais terriblement peur de l'échec, et c'est dans cette nouvelle vie que j'ai accepté l'idée que tout pouvait voler un éclat. Mais que ce n'était pas grave ! J'ai mis beaucoup de temps à me sentir légitime.
Quand avez-vous réalisé que vous étiez une artiste à part entière ?
Jusqu'en 2012, je n'arrivais pas à me préfigurer comme une artiste, je portais ce statut aux nues et je me sentais très au-dessous. Cette année-là, j'ai retrouvé Garbage sur scène à Coachella, et j'ai vu plein de groupes jouer avant ou après nous. Non seulement j'ai réalisé que je n'étais pas moins douée, mais surtout que j'étais nettement meilleure ! Je suis rentrée chez moi, j'ai rappelé les membres de Garbage et je leur ai dit : « on fait un autre album, les gars ! Maintenant ! »
Qu'est-ce que ça fait de remporter un Icon Award, celui du magazine NME ?
Que ce magazine, avec qui j'ai eu une relation passionnelle pendant des années, me choisisse parmi toutes les chanteuses, ça m'a énormément touchée. J'étais très surprise aussi, car c'est vraiment venu de nulle part, Garbage n'ayant pas fait parler de lui ces dernières années ! Bref, j'étais ravie mais j'ai essayé de ne pas le prendre trop au sérieux, surtout avec mes amis qui me charrient en terminant leurs phrases par « n'est-ce pas, ô icône ? »
Qui sont vos propres icônes ?
J'aime David Bowie et Nick Cave mais j'écoute avant tout beaucoup de femmes. Surtout celles qui avait un véritable combat à mener et qui ont été assez généreuses pour partager leur intensité avec le reste du monde : Nina Simone, Maya Angelou, Billie Holiday, ma mère, ma grand-mère, qui était très admirative des suffragettes. Elle était brillante, diplômée en mathématiques et en astronomie, qui a réussi à élever ses enfants alors que son mari était décédé, tout en enseignant son savoir avec passion. C'était une badass granny !
Et vous, on peut dire que vous être tout aussi badass ?
J'espère bien. Et je le prends pour un compliment…

04 juillet 2018
Rock & Folk
n°611
pays magazine: France
paru le 16 juin 2018
article de 2 pages sur Garbage
> visuel article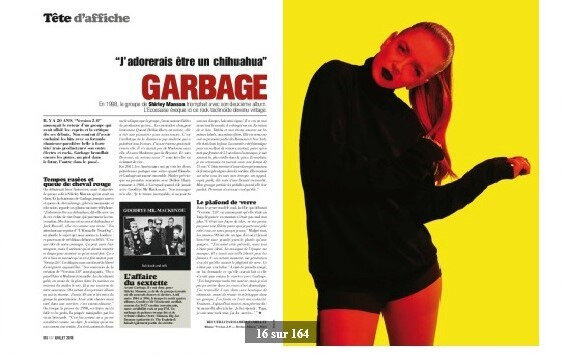 ---
GARBAGE
En 1998, le groupe de Shirley Manson triomphait avec son deuxième album.
L'Ecossaise évoque ici ce rock technoïde devenu vintage.
Isabelle Chelley

IL Y A 20 ANS, "Version 2.0" annonçait le retour d'un groupe qui avait affolé les esprits et la critique dès ses débuts. Non content d'avoir enchaîné les hits avec sa formule chanteuse-parolière belle à forte tête / trois producteurs / son entre électro et rock, Garbage brouillait encore les pistes, un pied dans le futur, l'autre dans le passé.

Tempes rasées et queue de cheval rouge
On débuterait bien l'interview, mais l'attachée de presse a dit à Shriley Manson qu'on avait un chien. Et la chanteuse de Garbage, tempes rasées et queue de cheval rouge, gilet en moumoute et robe noire, regarde ses photos sur notre téléphone.
"J'adorerais être un chihuaha, dit-elle avec un de ces éclats de rire franc qui ponctuent la conversation. Ma chienne est un croisé chihuaha et Jack Russell, elle vit comme une reine." En attendant une reprise d' "I Wanna Be Your Dog", on aborde le sujet qui nous amène à Londres: ce processus de rééditions débuté en 2015. "C'est une idée de notre manager. Ca peut avoir l'air arrogant, mais il estimait qu'on devait ressortir ce disque pour montrer ce qu'on avait fait. Ca a été si bien en tournée qu'on en a fait autant pour "Version 2.0". Ces disques nous ont donné la liberté d'enregistrer aujourd'hui.
Ses souvenirs de la création de "Version 2.0" sont glaçants. "On a passé l'hiver à Madison à travailler. Les lacs étaient gelés, on avait de la glace dans les narines en rentrant du studio le soir. Et je me souviens de notre assurance. On sortait d'un premier album au succès énorme. J'avais 30 ans et les mecs du groupe la quarantaine. Avoir cette chance aussi tard dans une carrière, c'est extraordinaire."
On évoque la presse de 1998, ses titres sur la belle et les geeks, la poupée manipulée par les vieux briscards. "C'est fou comme on a pu me considérer comme un objet. Je voulais qu'on me voie comme une artiste. J'ai écrit autant de choses sur les disques que le groupe, j'avais autant d'idées de production qu'eux... Les mentalités changent lentement. Quand Debbie Harry est arrivée, elle a été une pionnière pour nous toutes. C'est l'archétype de la chanteuse pop moderne qui a pulvérisé tous les murs. J'ai une énorme gratitude envers elle. Il n'y aurait pas de Madonna sans elle. Et sans Madonna, pas de Beyoncé. Et sans Beyoncé, où serions-nous ?" conclut-elle en éclatant de rire. En 2017, les Américains ont pu voir les deux pétroleuses partager une scène quand Blondie et Garbage ont tourné ensemble. Shirley précise que sa première rencontre avec Debbie Harry remonte à 1984, à Liverpool quand elle jouait avec Goodbye Mr Mackenzie.
"Son manager m'a dit: 'Je te trouve incroyable, si un jour tu sors un disque, fais-moi signe'. Il a cru en moi avant tout le monde, il a changé ma vie. En raison de ce lien, Debbie et moi étions souvent sur les mêmes labels, aux mêmes fêtes. Elle est venue me voir en première partie des Ramones à New York, elle était dans la fosse. La tournée a été fantastique pour un million de raisons, surtout, parce qu'en tant que femme de 51 ans dans la musique, je suis souvent la plus vieille dans la pièce. Et soudain, je me retrouvais en tournée avec une femme de 71 ans ! C'était très rare d'avoir des représentations de femmes plus âgées dans les médias. Elle montait sur scène tous les soirs avec énergie, sex-appeal, esprit punk, elle reste d'une beauté incroyable. Mon groupe perdait les pédales quand elle leur parlait. Personne n'est aussi cool qu'elle."

Le plafond de verre
Dans le genre modèle cool, la fille qui débutait "Version 2.0" en annonçant qu'elle était un loup déguisée en mouton n'était pas mal non plus. "C'était une façon de dire, ne me prenez pas pour une fillette parce que je porte une jolie robe, vous ne savez pas qui je suis." Malgré tout, les années 90 ont été un âge d'or où il faisait bon être une grande gueule plutôt qu'une poupée. "J'ai aimé cette période, mais tout n'était pas idéal. La musique de l'époque me manque. Il y avait une telle liberté pour les femmes. A un certain moment, ma génération s'est dit qu'elle cassait le plafond de verre. Ce n'était pas vrai, hélas."
Avant de prendre congé, on lui demande ce qu'elle aurait fait si elle n'avait pas connu le succès avec Garbage. "J'ai longtemps voulu être actrice, mais je n'ai pas pu entrer dans un cours d'art dramatique. J'ai travaillé 5 ans dans une boutique de vêtements avant de réussir à m'échapper dans un groupe. J'ai foutu en l'air ma scolarité. vraiment. Aujourd'hui encore, mon père me dit: "Tu aurais dû aller à la fac". Je lui réponds: "Papa, je suisune rock star, j'ai du succès...

15 janvier 2018
C'est avec une grande tristresse qu'un communiqué fait part de la disparition soudaine de Dolores O'Riordan, chanteuse du groupe The Cranberries, ce lundi 15 janvier 2018, âgée seulement de 46 ans. Elle fait partie des figures majeures des chanteuses de rock des années 1990s, à l'instar de Shirley Manson (Garbage) et de Courtney Love (Hole).
It's with a great sadness that news announce the sudden death of Dolores O'Riordan, singer of The Cranberries, this Monday, January 15, 2018, aged only 46 years. She is one of the major figures of rock female singers of the 1990s, like Shirley Manson (Garbage) and Courtney Love (Hole).
---
Dolores O'Riordan
(06/09/1971 - 15/01/2018)
29 octobre 2017
Garbage Album Promo

---
? octobre 1996
Télévision Hey Hey It's Saturday - Nine Network
GTV Richmond, Victoria, Australie
Live "Milk"
---
Groupe
Shirley Manson (voix)
Butch Vig (batterie)
Steeve Marker (guitare)
Duke Erikson (guitare)
Daniel Shulman (guitare basse)

---
Captures & Video
---
© All images are copyright and protected by their respective owners, assignees or others.
copyright text by GinieLand.

19 août 2017
"Bootlegs" Album
Garbage - Livid Festival '96
---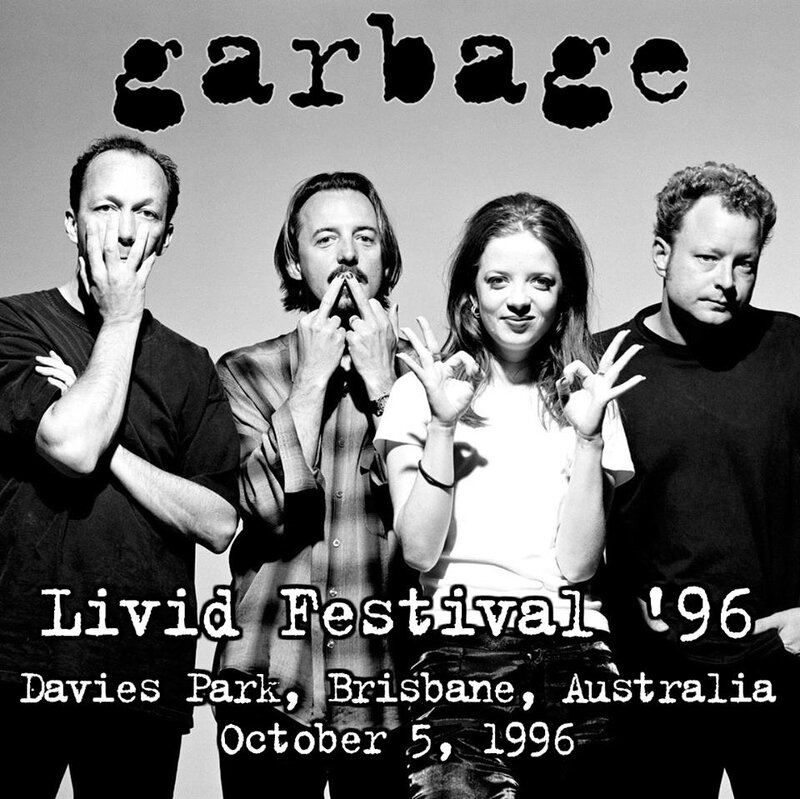 ---
1. Stupid Girl
2. Milk
3. Trip My Wire
4. Only Happy When It Rains
5. Vow
6. Girl Don't Come
---
Format: CD
Année: 1996
Concert du 5/10/1996 au Livid Festival en Australie
Radio broadcast by Triple J
---
© All images are copyright and protected by their respective owners, assignees or others.
copyright text by GinieLand.
Enregistrer
Garbage Album Tour

---
5 octobre 1996
Livid Festival
Davies Park
Australie

---
Groupe
Shirley Manson (chant, guitare)
Steeve Marker (guitare et clavier)
Duke Erikson (guitare et clavier)
Butch Vig (batterie)
Daniel Shulman (guitare basse)
---
Affiche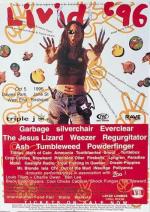 A l'affiche de ce festival :
Ammonia - Ash - Ben Lee - Blowhard - CIV -
Crop Circles - Dream Poppies - Everclear - Fireballs -
Garbage - Gaslight Radio - Isis - Louis Tillett & Charlie Owen -
Mr Blonde - Pollyanna - Powderfinger - Precision Oiler -
Regurgitator - Silverchair - Snout - The Blackeyed Susans -
The Jesus Lizard - The Mark of Cain - Tiddas - Tim Steward -
Toothfaeries - Trout Fishing in Quebec - Tumbleweed -
Weezer - iNsuRge
---
Setlist

Stupid Girl
Milk
Trip My Wire
Only Happy When It Rains
Vow
Girl Don't Come
---
Concert
- live: Stupid Girl -

---
Backstage
- voir Interviews au Livid Festival -
---
© All images are copyright and protected by their respective owners, assignees or others.
copyright text by GinieLand.

12 juin 2017
The Cut
supplément de New York Magazine
pays magazine: USA, New York
paru 29 mai 2017
couverture et article sur Shirley Manson:
The Cut - "The Return of a Grunge Goddess Garbage's
Shirley Manson is worried women rockers are going extinct."
---
The Return of a Grunge Goddess
Shirley Manson, lead singer of '90s band Garbage, heads back on the road with Blondie.
By Dayna Evans
Photographs by Maxine Helfman
June, 6, 2017
( source article thecut.com )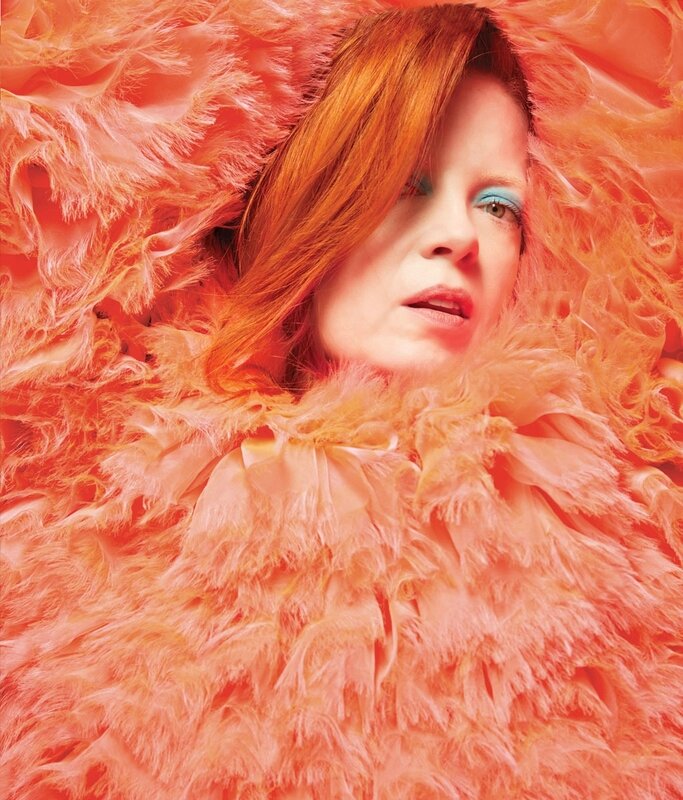 Gucci silk organdy coat, at select Gucci stores; 212-826-2600.
As she rifles through neat piles of iron-on patches, tarot-card decks, and baby-pink notebooks, Shirley Manson's slowly graying undershave is visible beneath a fiery red bun. "My [7 year old] niece would love it here!" she declares, "here" being Junior High, a new feminist art-gallery-meets-community-space in East Hollywood. "Had I walked past on my own, I probably would have been too intimidated to come in."

It's hard to imagine the 50-year-old Scottish frontwoman of '90s post-grunge band Garbage being intimidated by anything, though the gallery's augmented reality exhibit and Justin Bieber stickers skew more millennial than Gen X. Walking through the open storefront, she picks up a patch that reads WEIRDOS and says, "This is literally my idea of heaven." Manson remains nimble, both embracing and appraising current trends, as she reflects on all that has changed over her 30-plus-year career in the music business.

This summer, 22 years after releasing their debut record, Garbage will embark on a co-headlining U.S. tour with Blondie, led by 71-year-old Debbie Harry. For Manson, the tour, which will promote Blondie's 11th record, Pollinator, and Garbage's 6th, Strange Little Birds, presents an opportunity to exalt the archetype of the female rockstar amid her fears that she is becoming extinct.
"[Debbie Harry and I] are some of the few women left who do what we do in the way that we do it. We're getting rarer and rarer. I think people understand that this breed is dying." She pauses, and adds, "Literally dying." Harry and Manson belong to a generation of women musicians who, as she puts it, "write their own music and aren't chasing pop success," but Manson worries that the bloodline is thinning. Patti Smith is 70. Chrissie Hynde, 65. Courtney Love, 52. "I was having a funny conversation with Karen O about this at a party the other night," she says of the 38-year-old lead vocalist of the Yeah Yeah Yeahs, as a Jenny Lewis (41) song plays over Junior High's speaker system. "We were like, 'We're the last of the rockers!'"
For Manson, many of the music industry's current megastars fail to pass her rock litmus test. "Rihanna is the closest thing we have in the pop world to a rockstar," she muses, adding that she's a huge fan of pop music. "If Rihanna wanted to make rock music, I'm sure she could. But unless you're playing rock music, you're not a rockstar."

Delpozo linen coat, $1,590 at farfetch.com.
Gucci sunglasses, $830 at gucci.com.
Photo: Maxine Helfman
In preparation for the upcoming tour, Manson has been thinking a lot about the past and her band's place in it. This July, Garbage will release a coffee-table book full of artifacts, photos, and anecdotes that capture their long history: pages of lyrics with penciled-in edits, cocktail recipes — like one for "Vodka With Anything" — and snapshots from a forgotten era where Manson wore her hair boy-short and platinum blonde. "We're all fucking getting up there," she says, eyes rolling. "We wanted to leave something behind for the wee ones."
The book, titled This Is the Noise That Keeps Me Awake after a lyric in Garbage's 1998 single, "Push It," shows how the band rose out of grunge's ashes after groups like Nirvana and Soundgarden began to fade away. By comparison, Garbage had a much more commercial sound, a deliberate decision on the part of the band's drummer and producer Butch Vig. Vig, who was already well-known for producing Nirvana's Nevermind, mixed elements of trip hop, electronic, and pop on top of grunge on Garbage's successful self-titled first album. The result were radio-friendly — albeit still angsty — hits, "Only Happy When It Rains" and "Stupid Girl." An update on their predecessors, though, was standing front and center: Garbage's lead singer was a woman.
"When success occurred to us, it didn't feel personal," Manson says of the early days of Garbage as we sit drinking martinis at Musso & Frank's, a 100-year-old Hollywood steakhouse where Manson is a frequent visitor. Looking back, she sees Garbage's success as a part of something larger than just hard work or talent. "I understood logically that this was a zeitgeist moment," she says.
Following the overabundance of testosterone in the early grunge era, the mid-'90s saw the rise of the alternative girl — Alanis Morissette's' Jagged Little Pill, No Doubt's Tragic Kingdom, and Björk's Post all released the same year as the first Garbage record — and Manson became one of several potent figures for the female fans grunge had left behind.
"We were in the right place at the right time and we were making the right kind of music," she says. "I'm the right kind of voice. I had the right look." Manson had been in bands for ten years before she became successful as the ginger Scot in black eyeliner and combat boots. "It wasn't that we were brilliant. I have friends who could have peed all over our talent."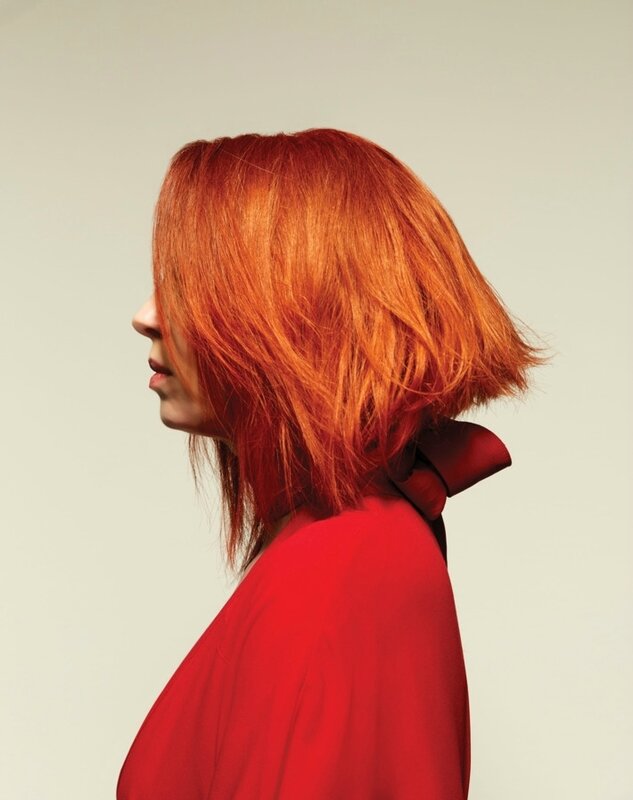 Tome crepe dress, at tomenyc.com.
Photo: Maxine Helfman/Maxine Helfman 2013
The group's second album, released in 1998, earned them a Grammy nomination for album of the year, and "#1 Crush," a song the group wrote for Baz Luhrmann's Romeo + Juliet, gave them even more cultural cache with an angsty younger following. The 2000s were a difficult time for the band — with record-contract disputes and an eventual hiatus — as the winnowing popularity of alternative rock gave way to a gentler indie-rock sound. But Garbage found its foothold again recently, thanks to a wave of '90s nostalgia that brought grunge and shoegaze back into popular culture.
Reflecting on the band's resurgence, Manson told Rolling Stone in 2015, "I'm not surprised in retrospect that people love that record. I'm surprised that we managed to get to the point in our career where enough time had passed that people could look back and appreciate it again. I didn't ever expect it to last the course of time."
"I've never been a Taylor Swift, I've never been that famous.
I can't begin to imagine what that must be like."
"Now, our culture doesn't value anything that's not massive," she says of music tastes today. "It seems like people are in awe of mass consumption. The bigger the artist, somehow the more special. That's just not what I was brought up to believe in at all. I've never been a Taylor Swift, I've never been that famous. I can't begin to imagine what that must be like. But you don't get to that level accidentally — you court that level of success."
"The generation that I was brought up in, we were embarrassed if you were successful, (which was also fucked up, by the way)," she adds. "We found that vulgar. Nobody wanted to sell out — but now everybody is happy to."
But Manson also acknowledges the fact that, hey, she's been wrong about things before. "When I was 30, I thought I had everything sussed out," she says as she adjusts a bandanna tied around her neck. "I thought I knew everything. Then I hit 40, and I looked back at 30 and thought, 'What a clown. I knew nothing.' I thought I was ancient at 40, but now I'm 50 and I realize I was really just a young woman. You can change your fucking mind. I want to be able to be agile enough and brave enough to say I was wrong."

Rosie Assoulin silk faille gown, at Bysymphony.com.
Photo: Maxine Helfman/Maxine Helfman 2013
But is she really one of the last female rockstars? Maybe of her generation. But dozens of women musicians in DIY rock and punk scenes see the path Manson took as a viable model for their own. "Garbage wouldn't have had the lasting impact they have had on me if it weren't a woman singing," says Ally Einbinder, the bass player in an all-female punk band Potty Mouth, adding that their upcoming record is explicitly influenced by Garbage. Screaming Females' guitarist Marissa Paternoster, whose band went on tour with Garbage in 2013, agreed. "Shirley was the most honest in her darkness. Gwen Stefani was a great inspiration for me but she didn't have that sharp edge that I was looking for. That's what attracted me to Garbage: Shirley's transparency and vulnerability."
"I thought I was ancient at 40, but now I'm 50
and I realize I was really just a young woman."
It helps that many feel Manson's message hasn't changed much. "Shirley is one of the few women musicians I looked up to in high school who didn't go on to disappoint me," said Cynthia Schemmer, a guitar player and songwriter for punk bands Radiator Hospital and Swanning. "A lot of women I looked up to kind of 'got over' feminism, or switched personas, and I feel like she really just stood her ground."
As she gets older, Manson says, she's becoming even "more outraged" as a woman and as a feminist. "To me, [feminism] is about equality. It's nothing to do with whether we like makeup or don't like makeup." (Manson does.) "Feminism has nothing to do with whether you have children or not." (She doesn't.) "It's really just: How about you pay me the same fucking amount that you just paid him? I just did the same fucking job. If your husband gets this, so do you. If your boyfriend is doing this, and you want to do that, then you get to do it, too. It's that simple."
Her Christian upbringing is partially responsible for inspiring a lifetime of questioning and rebellion. "I remember many older women making jokes like, 'Just lie back and think of England.' Basically they were saying sex was your duty. Your sexuality had nothing to do whatsoever with the sexual act. We became receptacles." When she saw hypocrisies in organized religion as an adolescent, she stopped attending church altogether. She hasn't been back since.
"Clearly some of that outrage does go into music for me," she says, "but in general it goes into me being me in the world. I don't get too despondent."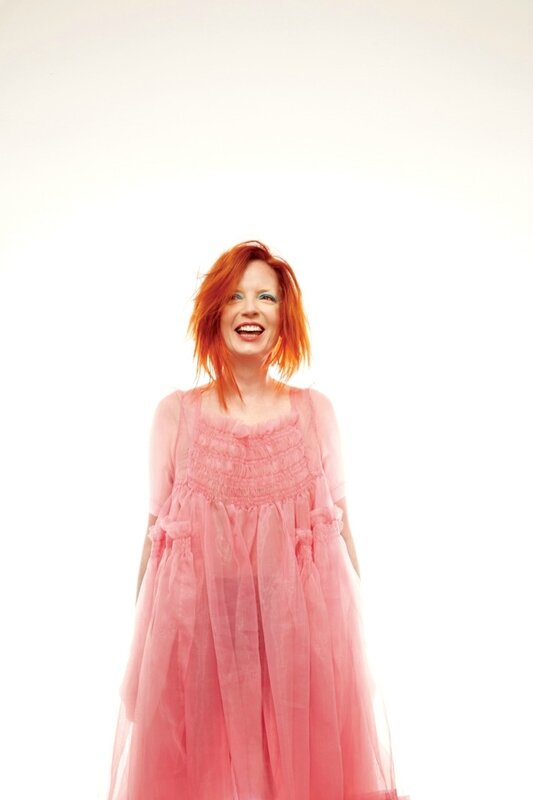 Molly Goddard organza dress, similar styles at mollygoddard.com.
Photo: Maxine Helfman/Maxine Helfman 2013
As we finish up our martinis, Manson spots Donita Sparks, guitarist and front woman for grunge band L7, walking towards us at the bar. Sparks made rock history in 1992 when she threw her used tampon into an aggrieved crowd and shouted, "Eat my used tampon, fuckers!"
Manson and Sparks do some lively catching up. "Did you go to the PJ Harvey show last weekend?" Manson asks Sparks, who says she did not. "Cor," Manson exclaims, throwing her head back dramatically, "it was devastating. It was so spectacular."
"I feel bad because I haven't checked out her early stuff like you told me to," Sparks admits.
"Come on, Donita, you'll love it. I'm telling you." To this, Sparks nods, surrendering. "I know, I know. I've always loved her vibe."
Manson and I pick up where we left off — on religion, on death, on sex, on a chastity-belt-style outfit that a Russian designer had custom-made for her ("I looked like Joan of Arc") — moving on from her run-in with Sparks as if it were completely ordinary. But after our conversation, it took on considerable more significance: two members of Manson's so-called "dying breed" in the flesh, exchanging recommendations for another vaulted member of their clan.
Outside of the steakhouse in the harsh L.A. sunlight, I mention to Manson that I'm turning 30 next week. She belts out a laugh — her head tilted back and mouth wide open — as she grabs me by the shoulder like a coach giving a pep talk to a rookie.
"Come on, girl," she says. "You're young yet."
---
Styling by Rebecca Ramsey and Candice Lambert; makeup by Amy Chance using Surratt Beauty at Celestine Agency; hair by Clyde Haygood at Forward Artists using T3 Tools; styling assistance by Sarah Kinsumba.
*This article appears in the May 29, 2017, issue of New York Magazine.
11 juin 2017
Garbage de A à Z
Auteurs: Antoine Barde, Patrice Verry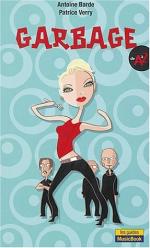 Date de sortie: mars 2004
Broché 128 pages
Langue: français
Dimensions : 27,7 x 10,7 x 0,8 cm
Éditeur: Prélude et Fugue
Collection Les guides MusicBook
ISBN-10: 2843431875
ISBN-13: 978-2843431876
Prix éditeur: 5,50 €
Ou le commander ? sur amazon

Description: Chaque Musicbook, à travers un abécédaire, présente au lecteur de façon originale la vie et la discographie d'un artiste ou d'un groupe. La collection Musicbook compte aujourd'hui plus de 60 titres.
Dans chaque volume, on y trouve notamment: un dictionnaire complet sur le groupe ou l'artiste, les dates clés de l'histoire du groupe ou de l'artiste, la discographie complète illustrée et commentée, de nombreux extraits d'interviews.
Présentation: Garbage, c'est d'abord le charisme et le style uniques de Shirley Manson. De A comme Accomplissement, à Z comme Chad Zaemisch, ce guide MusicBook fait le point sur la réussite phénoménale de le nouvelle figure de proue du rock et sur ses acolytes. Anecdotes, discographie complète, illustrée et commentée, dates clés... entrez dans les coulisses de l'histoire du rock !
Mon Avis en Bref...
Petit livre de poche qui se lit facilement et dans l'ordre que l'on souhaite car organisé en abcédaire. On y apprend une multitude d'anecdotes sur le groupe, avec beaucoup de citations (extraits d'interviews). Le livre ne comporte aucune illustration (excepté les pochettes des albums).
---
Vous avez le livre ?
Apportez votre critique, votre avis ou votre note (/10)
Do you have the book ?
Gives your opinion, review or note (/10)
Enregistrer
Enregistrer
Garbage
Réinventant le Rock
Auteur: Lola Fernandez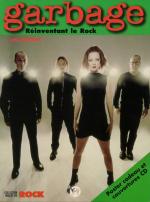 Date de sortie: 1998
Broché 63 pages
Langue: français
Dimensions : 28,1 x 0,5 x 21 cm
Éditeur: Editorial La Mascara
Collection "Images du Rock" n°50
ISBN-10: 84-7974-585-1
ISBN-13: 978-8479745851
Prix éditeur: 75 francs (environ 12 Euros)
Ou le commander ? sur amazon

Description: Biographie illustrée non officielle du groupe.
Sommaire:
Un certain penchant pour les déchets
L'ère post-grunge
Les quatre éléments
Les hommes des Madison
- Butch Vig - Steeve Marker - Duke Erikson -
Shirley Manson: Le côté obscur -
Rebelle sans cause - Ses premiers groupes
Un cocktail explosif - Les choses du destin -
L'épreuve finale - Rien n'est sacré
Garbage Le lancement - Improviser un single -
Pop, rock ou techno ? - Démons intimes
Garbage à propos de Garbage
Butch Vig - A l'ombre de Nirvana
Version 2.0 - Enfin un groupe -
Accros aux studios - Série d'hommages -
Une seule voix - Un véritable groupe
Garbage à propos de Version 2.0
En concert. L'autre Garbage
Confessions de Shirley Manson
Détails curieux à propos de Garbage
Sexe, méchanceté, déprime, vengeance... Les paroles
Discographie
Mon Avis en Bref...
Le premier livre consacré à Garbage en français. Sorti en 1998, il regorge d'informations et d'anecdotes sur l'"avant" Garbage: petite biographie de chaque membre du groupe, leurs anciennes formations musicales puis la création du groupe et leurs deux premiers albums. Illustré à chaque page, il contient un poster en page centrale.

---
> Le livre version espagnole
Garbage. Reinventando el Rock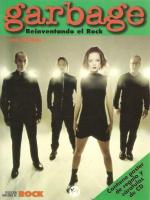 ---
Vous avez le livre ?
Apportez votre critique, votre avis ou votre note (/10)
Do you have the book ?
Gives your opinion, review or note (/10)
Enregistrer