18 mars 2017
Album Compilation
Sweet Relief II
Gravity of the Situation
The Songs Of Vic Chesnutt

---
---
1. Garbage – "Kick My Ass"
2. R.E.M. – "Sponge"
3. Nanci Griffith with Hootie and the Blowfish – "Gravity of the Situation"
4. Soul Asylum – "When I Ran Off and Left Her"
5. Dog's Eye View – "Dodge"
6. Live – "Supernatural"
7. Smashing Pumpkins with Red Red Meat – "Sad Peter Pan"
8. Sparklehorse – "West of Rome"
9. Joe Henry and Madonna – "Guilty By Association"
10. Kristin Hersh – "Panic Pure"
11. Cracker – "Withering"
12. Indigo Girls – "Free of Hope"
13. Mary Margaret O'Hara – "Florida"
14. Vic Chesnutt and Victoria Williams – "God Is Good"
---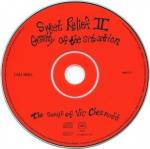 Durée: 00:59:56
Label: Columbia (Sony Music)
Format: CD
Pays: USA
Année: 6 août 1996
---
"Sweet Relief II: Gravity of the Situation" est un album à but caritatif (recettes reversés au Sweet Relief Fund pour aider les musiciens en besoin de soins de santé), où figure des groupes de rock alternatif qui chantent des reprises du musicien tétraplégique Vic Chesnutt. L'album est promu par un concert le 14 juillet 1996, sponsorisé par la chaîne musicale MTV: "An Evening of Sweet Relief" où Garbage interpréte deux lives: "Kick My Ass" et "Supernatural".
Un premier album "Sweet Relief: A Benefit for Victoria Williams" était sorti en 1993, avec des groupes faisant des reprises de Victoria Williams et dont les recettes étaient aussi reversés au Sweet Relief Fund.
---
© All images are copyright and protected by their respective owners, assignees or others.
copyright text by GinieLand.
Enregistrer
Enregistrer
Enregistrer